Those who know me well as well as those who are unfortunate enough to follow me on Twitter have likely noticed my recent fascination with straight edge. Last I checked, I'm certainly not straight edge so where has this interest come from? Perhaps some sort of existential crisis of realizing I'm nearly 20 and have yet to be a part of any movement or community, perhaps it's because I can't stop listening to Down to Nothing, who knows? Who cares? As always, the real thing that has brought me here is the Youth Crew style. This post will be how to dress within the Youth Crew aesthetic, or at least my interpretation of it.
First, the bottoms. The classic Youth Crew aesthetic is heavily rooted in a sporty, comfortable look. Therefore, I would personally recommend nylon shorts. My personal recommendation is the currently trendy Patagonia Baggies, affordable, durable, versatile and damn comfortable. However, if Baggies are too expensive or too baggy for you, basic nylon shorts can be found just about everywhere. If you want one pair, black is what I would recommend as it can be worn with anything. You can also get away with plain cotton shorts or cut-offs. Please just avoid the cargo shorts that an uncomfortable number of straight edgers seemingly wear.
If, for whatever reason, you don't want to wear shorts, there are other options. My next recommendation would be twill work pants from brands like Dickies which are quite common in modern hardcore, though an item I associate a bit less with the classic aesthetic. Hell, you can play things safe and just wear plain black jeans, but that's frankly boring in my opinion. Same as cargo shorts, sweatpants also did have a heavy presence in the scene but please, just don't.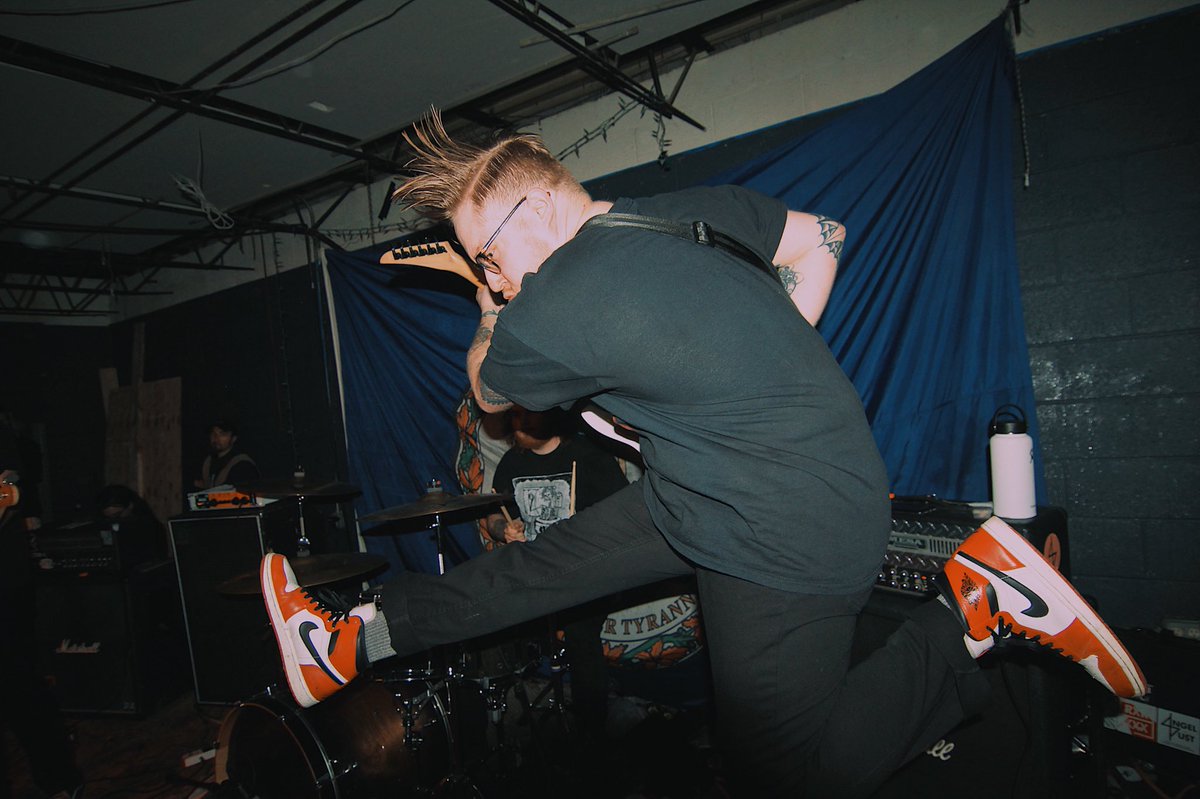 Next, the shoes. Sneakers are without question the name of the game. In Northeastern hardcore, Nikes were the most common, especially high top silhouettes like the Blazer and Jordan 1. These would be my personal preference though you can certainly play around with other, low-top models such as the Air Max 90 and other classic runner models. All that being said, Nikes are not the sole choice. Here in Virginia, Vans are often the most common, notably the Sk8-Hi and Old Skool silhouettes, though Authentics and a few other models will pop up here and there. Nikes and Vans would be my primary recommendation as they have the most visual connection to the scene, are often the easiest to find a wide selection from and I personally feel are the most attractive.
Another thing to consider in terms of footwear is the socks, good high socks. When I say high, I mean higher than ankle, not full crew socks halfway up the calf. Make sure that they're not totally pulled taut: you're going for a comfortable look, not looking like you're about to work out or something. Socks are especially desirable paired when with high top shoes, reaching about an inch or two above the top of the sneaker.
It may be summer, but shirts are still recommended, especially given the power they hold in pulling the full look together. Quite obviously, the most sensical option would be to wear shirts for bands associated with the scene. That being said, it's not the only option. The most iconic alternative is the Supreme Youth Crew t-shirt. Noah is another brand which openly embraces the culture, notably through their collaboration with Youth of Today. Additionally, it's easy to reference numerous streetwear brands such as Stray Rats, Utmost, Brain Dead, Bianca Chandon, and of course Stüssy, who Turnstile referenced in their merch.
Finally, the sweats, and no, I do not mean sweatpants. Sometimes, the temperatures during the warmer seasons do cool down a bit. In those cases, it's a great time to go full sportswear and embrace the sweatshirt. Same as shirts, a good merch sweat is the best option though the same streetwear brands also hold up, a notable item being this one from Supreme. Another type that does come into play is a clean collegiate hoodie, the Colgate one pictured below is an item which I cannot stop thinking about. Crewneck sweats will work too, though I just prefer a hoodie as it gives a more laid back vibe and, I feel, looks better with shorts.
The way I see it, there are three main benefits to going for the Youth Crew look (or my bastardization of it) –
1. It's affordable.
If you shop around even a little, you can pretty easily put together a full outfit for under $100. If you choose, you can of course put together something a bit nicer which does entail higher costs, but it's hardly necessary.
2. It's unisex.
The benefit of an aesthetic as basic as this is that it is attainable for just about everyone and can look good on just about anyone. The only real variation comes down to your item choices and fit preferences.
3. It's versatile.
I don't mean versatile in the classic #menswear way of "bro, you can go from the boardroom to the bar on a Friday night," I mean in terms of what you can do in such an outfit. It won't fit in in a professional environment, it won't fly in most workplaces. But you can easily go from exercising, to relaxing, to a show without changing fits. It's comfortable and sporty in just the right way that you can live life without worrying.